Nonnative early bilingualism in Brazilian families:
a case study
Palavras-chave:
Bilinguismo Não-Nativo; Bilinguismo Simultâneo; Criação Bilíngue; Aquisição Bilíngue da Primeira Língua
Resumo
Este estudo de caso apresenta, avalia e discute o fenômeno do bilinguismo não nativo no Brasil. O bilinguismo não nativo consiste em criar uma criança em uma língua estrangeira por pais que não são falantes nativos dessa língua e vivem em um ambiente onde essa língua estrangeira não é falada, ou seja, pais brasileiros que vivem no Brasil criando seus filhos em inglês. Vinte e quatro famílias, que adotaram essa prática, participaram deste estudo, respondendo a um questionário escrito online. Os resultados são analisados no contexto das teorias do bilinguismo, discutindo-se o papel dos pais na aquisição da língua estrangeira, as estratégias comunicativas utilizadas, os problemas encontrados nesse processo e recomendações para as famílias que desejam adotar o bilinguismo não nativo.
Downloads
Não há dados estatísticos.
Referências
BAKER, Colin. A Parents' and Teachers' Guide to Bilingualism. Bristol: Multilingual Matters, 2014.
BYERS-HEINLEIN, Krista. Parental language mixing: Its measurement and the relation of mixed input to young bilingual children's vocabulary size. Bilingualism: Language and Cognition, Cambridge, 16(1), p. 32-48, 2013. DOI: https://doi.org/10.1017/S1366728912000120
BYERS-HEINLEIN, Krista; LEW-WILLIAMS, Casey. Bilingualism in the Early Years: What the Science Says. LEARNing Landscapes, 7(1), p. 95-112, 2013 DOI: https://doi.org/10.36510/learnland.v7i1.632
CRYSTAL, David. English as a Global Language (Second edition). Cambridge: Cambridge University Press, 2003.
DE HOUWER, Annick. Parental language input patterns and children's bilingual use. Applied Psycholinguistics, 28(3), p. 411-424, 2007. DOI: https://doi.org/doi:10.1017/s0142716407070221
DE HOUWER, Annick. Bilingual first language acquisition. Bristol: Multilingual Matters, 2009.
GROSJEAN, François. Neurolinguists, beware! The bilingual is not two monolinguals in one person. Brain and Language, 36(1), p. 3-15, jan. 1989. Available from: https://doi.org/10.1016/0093-934x(89)90048-5.
GROSJEAN, François. Life with two languages. Cambridge: Harvard University Press, 2001.
GROSJEAN, François. Bilingual: Life and Reality. Cambridge: Harvard University Press, 2010.
GROSJEAN, François; BYERS-HEINLEIN, Krista. The Listening Bilingual: Speech Perception, Comprehension, and Bilingualism. Oxford: Wiley-Blackwell, 2018.
LOZANO-MARTÍNEZ, Laura. Myths and challenges on raising bilingual children in English by non-native parents in Spain. Elia, 19, p. 235-264, 2019. Available from: https://doi.org/10.12795/elia.mon.2019.i1.10.
PEARSON, Barbara Zurer. Raising a bilingual child: A step-by-step guide for parents. Kindle Edition. New York: Living Language, 2008.
PLACE, Silvia; HOFF, Erika. Properties of dual language exposure that influence 2-year-olds' bilingual proficiency. Child development, 82(6), p. 1834–1849, 2011. DOI: https://doi.org/10.1111/j.1467-8624.2011.01660.x
ROMANOWSKI, Piotr. Strategies of communication in an NNB Family: on the way to bilingual maintenance in a monolingual context. In: Romanowski, P., Jedynak, M. (eds) Current Research in Bilingualism and Bilingual Education. Springer, Cham: Multilingual Education, 26, p. 3-21, 2018. DOI: https://doi.org/10.1007/978-3-319-92396-3_1
SCHMITZ, John Robert. "To ELF or not to ELF?" (English as a Lingua Franca): that's the question for Applied Linguistics in a globalized world. Revista Brasileira de Linguística Aplicada, 12(2), p. 249–284, 2012. ttps://doi.org/10.1590/s1984-63982012000200003
SZRAMEK-KARCZ, Sonia. The Success of Non-Native Bilingualism in Poland. Lingwistyka Stosowana, vol. 17, p. 93–102, 2016. DOI: https://doi.org/10.32612/uw.20804814.2016.2.pp.93-102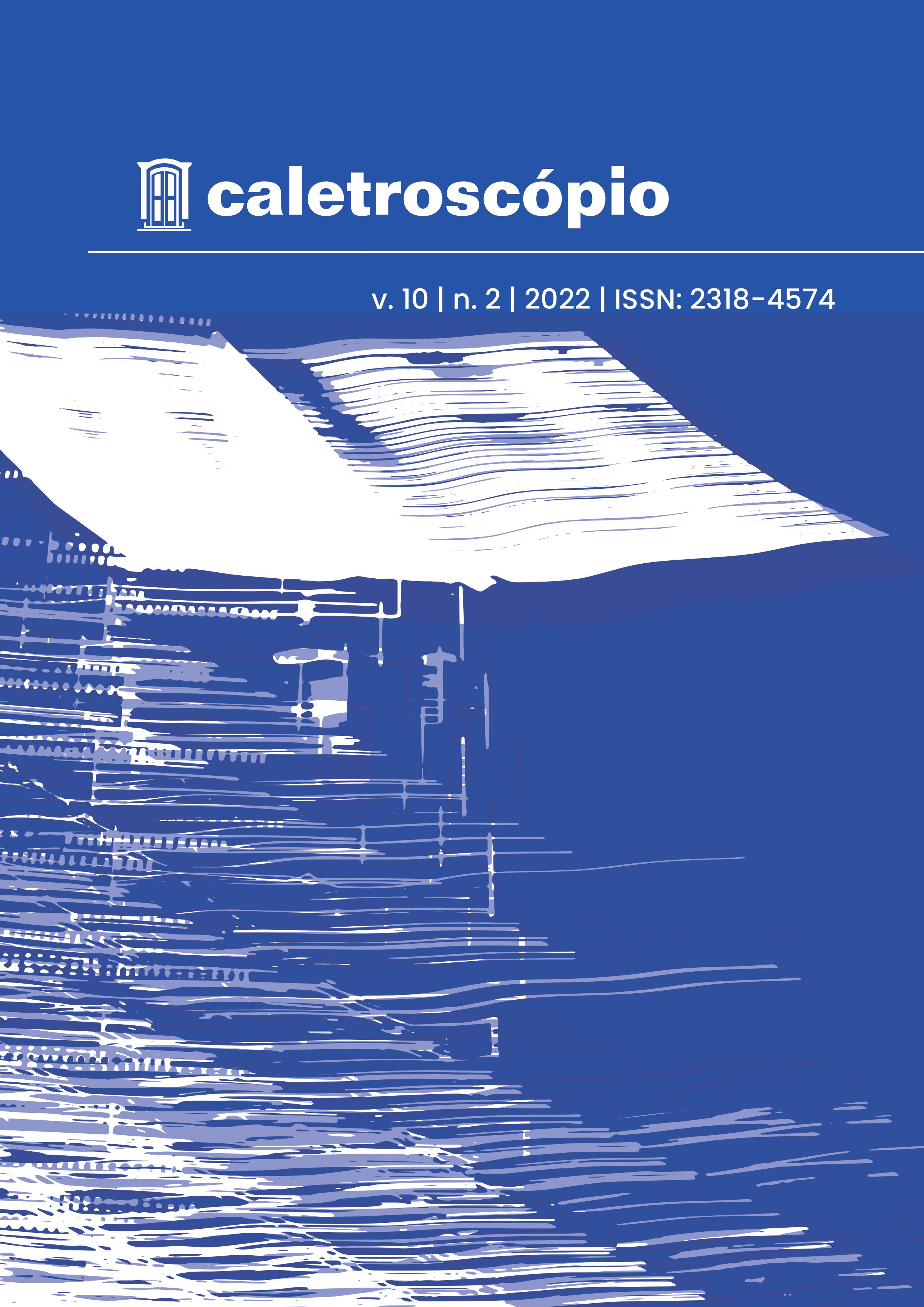 Seção
Artigos - Fluxo contínuo
A Revista Caletroscópio deterá, por um período de três anos, os direitos autorais de todos os trabalhos aceitos para publicação: artigos, resenhas, traduções, etc. Fora essa restrição, os trabalhos estão licenciados com a Licença Creative Commons - Atribuição-NãoComercial-SemDerivações 4.0 Internacional.
Após esse tempo, caso o autor publique o texto, ainda que sejam feitas alterações no original, solicita-se que seja incluída, em nota de rodapé, a informação de que uma versão anterior do artigo foi publicada na Revista Caletroscópio, apresentando as devidas referências.