O uso de jogos indígenas no ensino e na aprendizagem de Matemática
Palavras-chave:
Jogos indígenas, Ensino e aprendizagem de Matemática, Contexto sociocultural, Exemplos da vida real
Resumo
Os jogos indígenas desempenham um papel importante em várias comunidades. Apesar das pesquisas indicarem que esses jogos podem ser utilzados para avançar e criar uma conexão entre as atividades da sala de aula e os contextos da vida real, essa conexão ainda não foi explorada adequadamente para tornar isso uma realidade em muitas salas de aula de matemática. Este artigo relata diferentes jogos indígenas que são jogados na África do Sul e na região da África Austral. Este artigo, também, identifica vários jogos indígenas populares na África do Sul e como esses jogos foram utilização para a promoção do patrimônio cultural, bem como discute exemplos do uso desses jogos no processo de ensino e aprendizagem de matemática nas escolas.
Downloads
Não há dados estatísticos.
Referências
CHERINDA, Marcos. The use of a cultural activity in the teaching and learning of Mathematics: exploring twill weaving with a weaving board in Mozambican classrooms. 2002. Thesis. University of the Witwatersrand. Johannesburg.
DABULA, Nomonde Patiense. Student Teachers' exploration of beadwork: cultural heritage as a resource for mathematical concepts. 2000. 154p. Dissertation (Master of Education) — Faculty of Education. Rhodes University, Grahamstown.
GIBBS, William; SIHLABELA, Mprophet. String figures. Mathematics in School, v. 25, n. 3, p. 24-27. 1996.
KEKAE-MOLETSANE, Mokgadi. Masekitlana: South African traditional play as a therapeutic tool in child psychotherapy. South African Journal of Psychology. v. 38, n. 2, p. 367-375. 2008.
LESTER, Frank K. The role of metacognition in mathematical problem solving: a study of two Grade Seven Classes. Final Report. Bloomington, 1989.
MALESA, Mohlago Tracey. The importance of the indigenous games among the Ba-Phalaborwa of the Limpopo Province. 2012. 78f. Dissertation (Master of Arts in Folklore Studies) – Faculty of Humanities. University of Limpopo. Limpopo.
MALLOY, Carol E. Challenges in the Mathematics Education of African-American children. Reston: NCTM, 1997.
MASINGILA, Joanna. Carpet laying: an illustration of everyday mathematics. In: HOUSE, Peggy A.; COXFORD, Arthur F. (Ed.). Connecting mathematics across the curriculum. Reston: NCTM, 1995, p. 163-169.
MOGARI, David. An ethnomathematical approach to teaching and learning of some geometrical concepts. 2002. Thesis. University of the Witwatersdrand, Johannesburg.
MOLOI, Tshele John. Using indigenous games to teach problem-solving in mathematics in rural learning ecologies. JHEA/RESA, v. 13, n. 1-2, p. 21-32, 2015.
MOSIMEGE, Mogege. Methodological challenges in doing ethnomathemtical research. International journal of African Renaissance Studies – Multi-, Inter- and Transdisciplinarity, v. 7, n. 2, p. 59-78, 2012.
MOSIMEGE, Mogege. Reclaiming our African pride through the integration of ethnomathematical studies in mathematics teaching and learning. Plenary Address given at the Association of Mathematics Education of South Africa (AMESA) Conference. 2016.
MOSIMEGE, Mogege David. Exploration of the games of Malepa and Morabaraba in South African secondary school mathematics education. 2000. 674p. Thesis. University of the Western Cape. Cape Town.
MOSIMEGE, Mogege David; ISMAEL, Abdulcarimo. Ethnomathematical studies on indigenous games: Examples from Southern Africa. In: INTERNATIONAL CONGRESS OF MATHEMATICS EDUCATION, 10, 2004, Copenhagen. Proceedings of the ICME-10. Copenhagen: Roskilde University, 2004, p. 107-118.
NKOPODI, Nokopodi; MOSIMEGE, Mogege David. Incorporating the indigenous game of morabaraba in the learning of mathematics. South African Journal of Education, v. 29, n. 3, p. 377-392. 2009
NXUMALO, Abednego Sabelo; MNCUBE, Dumisani Wilfred. Using indigenous games and knowledge to decolonise the school curriculum. Perspectives in Education. v. 36, n. 2, p. 103-118. 2019.
NYABANYABA, Thabiso. Whither relevance? Mathematics teachers' discussion of the use of'real-life' contexts in school mathematics. For the Learning of Mathematics, v. 19, n. 3, p. 10-14, 1999.
ORTH, Zaida. Indigenous Games festival: preserving traditional African childhood games in South Africa. 2018. Found at https://www.africamattersinitiative.com; accessed on 7 sep. 2019.
SOUTH AFRICAN SPORTS COMMISSION (SASC). South African Indigenous Games: a Report on Indigenous Games in South Africa. 2001.
UNESCO. UNESCO digitalizes traditional African games to preserve and expose traditional culture. 2018. UNESCO Office in Nairobi.
ZIJLMA, Anouk. Guide to traditional African Board Games. 2019. Available in: https://www.tripsavvy.com.games.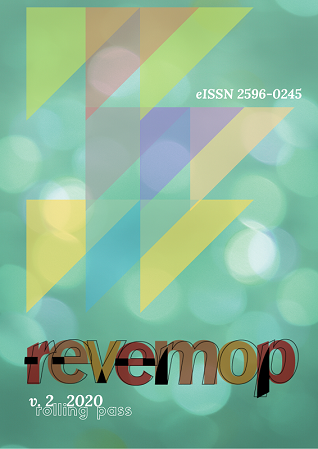 Como Citar
MOSIMEGE, M. O uso de jogos indígenas no ensino e na aprendizagem de Matemática. Revemop, v. 2, p. e202009, 4 mar. 2020.
Seção
Perspectivas internacionais da Etnomatemática: da pesquisa à prática
This work is licensed under a
Creative Commons Attribution-NonCommercial-ShareAlike 4.0 International License
.